We love that we can offer our visitors the experience of a good coffee, a great burger and freshly baked cakes within the Royal National Park. Perfectly situated, the biodiversity around Audley Dance Hall naturally provides a sense of calm, seasonal awe and connection to land.
When stepping inside our cafe you may have also noticed the incredible foliage artistically scattered around the place. Perhaps every time you visit, there is a new type of fern, banksia or native flower you didn't know the name of sitting in front of you as you sip a flat white. 
The decorative flora you see at Audley Dance Hall is lovingly prepared and displayed by Danelle from Blossom Love. 
Danelle has been a friend of Audley for the last 5 years, and an active member of the Shire community her whole life. Her green thumb visits always provide new natives, explosive colours and a plethora of unique plant species that she always knows so much about.
So, we thought we would give you a glimpse of Danelle's behind the scenes floral knowledge and ask her to share her passion with you!
Blossom love was created by Danelle Brown after living in the Royal National Park for 20 years. After connecting with the land for so long, she fell in love with the natural wonder this land offers her, and her family. 
As a trained professional in her field and from a lifetime of getting to know nature's wisdom, Danelle is a natural intuitive when it comes to choosing and styling Australian natives.
How did your Blossom Love journey begin?
"Following a 15 year break as a florist, I held a 'field of floral dreams' birthday party. I designed a floral chandelier which hung from a gum tree and styled a grazing table for my guests… all who questioned why the hell are you not doing this full time… this is your path! I then followed the call and restarted my full time creative passion as Blossom Love!"
What is your style?
"I absolutely love to work with Australian natives and love to pair the modern twist of Australiana with the softness of English style flowers. Right now I love the warm colour palette of autumn, the crisp air with the striking earth tones and the interesting banksias that bloom as we slip into winter. All year round I'll never shy away from splashing my bouquets with brightly coloured flowers such as a Menziesii banksia, Billy Buttons or paper daisies. It's wonderful to play a part in attracting native wildlife. Seeing the small native bees gather around the smaller flowers, often brings a smile to my face!
For my event clients, I'll try and capture their personality and work with mother nature to create designs that enhance their own vision. Whether it's a life celebration, a wedding or a birthday, leading with my eyes and heart, always pays off!"
Tell us what a normal day looks like for Blossom Love?
"My alarm goes off at 3:50am, it's then full steam ahead to get to Sydney flower markets by 5am. This is the most inspiring part of my day as the world and my senses wake up together and I intuitively choose flowers and foliage that's available seasonally. There is always a hustle and bustle at the Sydney flower markets and I'm always excited to get there early to get all the good stuff! All the flowers then need to be cut and prepped back at my studio. It chops and changes from there depending on my clients that day, but I'll always head back to start the school run for my 3 kids."
Where do you love to work?
"My all time favourite place is to get my floral on here at Audley Dance Hall. This place has a presence like no other where all the pressures of life are forgotten momentarily and I can just floral my creative little heart out! I like to hang around here even after all the floraling is done as the staff are super welcoming. So much so, that when I'm here sometimes customers will often ask me where things are…. I guess I do look like I'm at home here!
Designing and creating wedding florals are a huge part of my life, and I get so excited working independently to create all my clients floral dreams.
From wildly placed grevillea, in the nooks and crannies of Audley, to full blown bouquets towering over a wedding, the spectrum of my work is limitless!"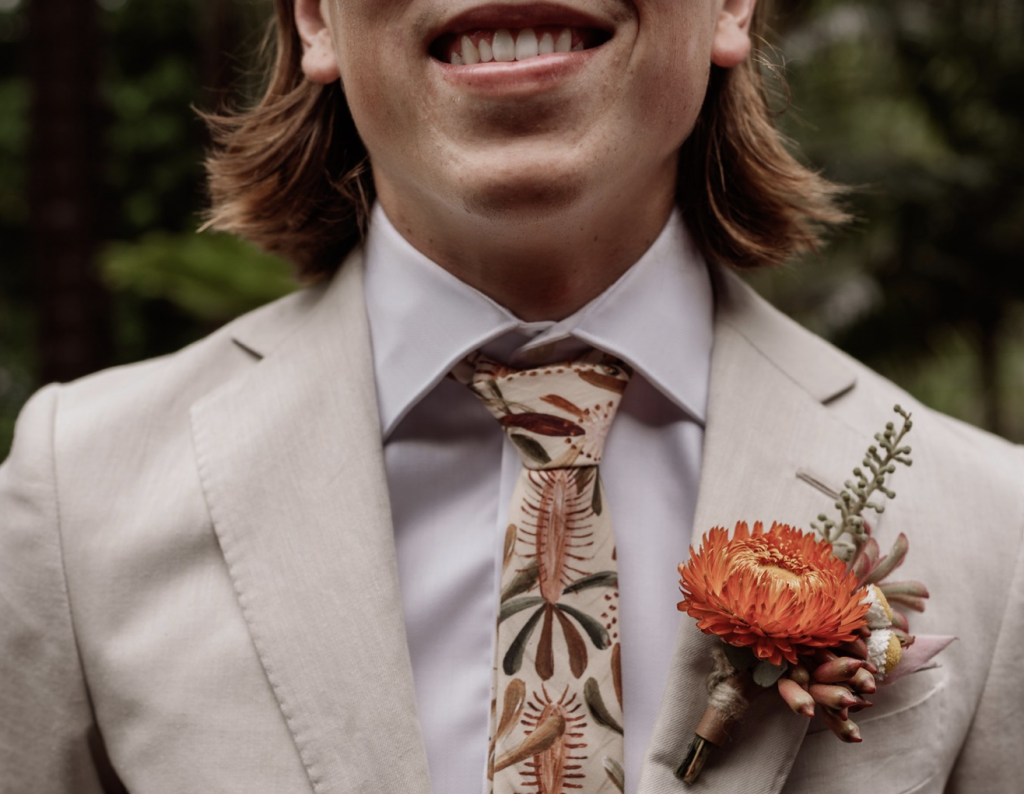 We are so happy Danelle is a part of our team here at Audley, we hope you can feel the love she pours into styling our venue, creating dreams for our clients and splashing little (sometimes very large) pots of floral joy around the place all year round.
Danelle Brown: @blossomlove_floralstylist
Photographer: @kristiecarrickphoto
Written by: Louisa Fenn @yogalouisa
Audley Dance Hall acknowledges and pays respect to the past, present and future Traditional Custodians and Elders of Dharawal land, and the continuation of cultural, spiritual and educational practices of Aboriginal and Torres Strait Islander peoples.
SHARE THIS ARTICLE